Purpose

Activation

Interconnection

Collaborating

Raise Awareness

Educate

Visualize Needs

Simulate Impact of Decisions

Decision Making

Designing

Co-Creation

Co-Analysis

Co-Design

Co-Implementation

Co-Maintenance

Co-Monitoring

Outcome

Decision Making

Knowledge

Assessment

Design

Inclusion

Awareness

Partnership
Mechanics

Alternative Reality

Role Play

Rule Based Play

Location Based

Simulations

Mapping

Geolocation

Hypothesis

Metagame

Tech&Tools

Analoge Tangibles

AR / VR

Audio Visual

Data AI

Data Collection/Visualization

Digital Interface

Mobile

Aesthetics

Sensation

Imagination

Assemblage

Physical Activity / Construction

Realism
Scale

Metropolitan

City

District

Neighbourhood

Street

Undefined

Audience

Community

Planning Expert

Audience Stakeholders

Policy Makers

Scope

Individual

Small Group

Small Group

Crowd

Pre-Defined

City Resilience Teams face two dilemmas in creating a strategic overall resilience strategy. The first is bringing different asset owners, each with very different viewpoints, to be part of the process. The second is to bring these subjective viewpoints together to create an objective strategy. STAIN is a new tool which gives teams a fresh view, helping to convert subjective views into an objective strategic view.
Collaboration between different parties is important in adaptation processes because Cities, as entities, do not own all the assets in a city region. City ambitions like energy transition, climate adaptation and health all require collaborations between different city departments and between the city and citizens, businesses, housing associations and other stakeholders. Participatory modelling is a way to set up this collaboration in an early phase and then strengthen it in more detailed planning phases.
Sometimes we forget how valuable city expert knowledge is for these adaptation processes, especially when there are detailed maps available on heat-island effects, floods, air quality and noise. These experts know exactly what is important in a certain part of the city, how citizens respond to actions from the city council, what types of measures will work, and which won't.
Resilience strategy calls for a bigger picture and a combination of different types of solutions. Protective, robust measures will solve problems for a certain period, but for long-term, resilient planning you need to complement robust solutions (such as sewage systems and flood retaining walls) with integral (e.g. nature-based solutions), flexible (e.g. early warning systems, awareness campaigns and educational programs) and redundant solutions (e.g. flood protective transformer stations).
STAIN is designed to reach that required level of common understanding and uses a certain abstraction to keep the bigger picture in mind. The people attending a STAIN workshop use their own expert knowledge on city assets, residents and short-term city plans and explain this to each other in order to reach a level of understanding and agreement. Not only does this result in an integral strategy, but the further planning and development phases also benefit from this level of agreement and understanding. This can accelerate the urban planning process.
The City of Rotterdam finished their resilience strategy "Rotterdams Weerwoord" in 2019 and used STAIN to translate this strategy into an approach for one of their city districts. City experts with backgrounds in, among others, asset management, mobility and water management, attended the workshop and talked about different ways to achieve the goals from the overall resilience strategy. Each expert knew about current projects and plans, where problems occurred, how residents would respond to certain solutions, and in which situations they would need to collaborate with different stakeholders.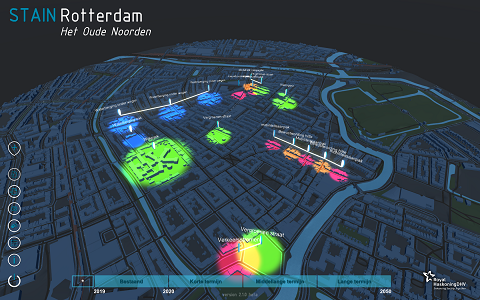 The workshop resulted in a district approach based on "Rotterdams Weerwoord". Participants of the STAIN session were quick to show enthusiasm. "The best part of this workshop was being able to learn so much from my colleagues," commented one of the experts.