Author:

relational urbanism + Levins + Robert Barry + mcelligot

Dublin, ireland, 2020
Purpose

Activation

Interconnection

Collaborating

Raise Awareness

Educate

Visualize Needs

Simulate Impact of Decisions

Decision Making

Designing

Co-Creation

Co-Analysis

Co-Design

Co-Implementation

Co-Maintenance

Co-Monitoring

Outcome

Decision Making

Knowledge

Assessment

Design

Inclusion

Awareness

Partnership
Mechanics

Alternative Reality

Role Play

Rule Based Play

Location Based

Simulations

Mapping

Geolocation

Hypothesis

Metagame

Tech&Tools

Analoge Tangibles

AR / VR

Audio Visual

Data AI

Data Collection/Visualization

Digital Interface

Mobile

Aesthetics

Sensation

Imagination

Assemblage

Physical Activity / Construction

Realism
Scale

Metropolitan

City

District

Neighbourhood

Street

Undefined

Audience

Community

Planning Expert

Audience Stakeholders

Policy Makers

Scope

Individual

Metropolitan

Small Group

Crowd

Pre-Defined
The design posed the challenge of enabling local communities to have a say in the design process in order to satisfy demands for safety, noise control and landscape impact, previously raised by residents during initial consultation stages. The two-stage competition included an intermediate consultation phase which Relational Urbanism design team used to deploy innovative tools for participation. These consisted in a skate park modelling - digitizing environment made up of a sandbox and 3D cloud capturing via Kinect. Participants could model with their hand the skate park they wanted with simple tools (wooden spheres, cylinders and small trowels). These models were later captured and brought into a 3D model which ultimately formed part of the overall proposal. The use of the modeling tool was deemed a success during the participatory event, where different members of the BMX community being actively engaged in the design process. This also encouraged senior members of the community to bring their views on safety and pedestrian issues. Similar events also took place in local schools, giving younger members of the community bring their ideas about play spaces.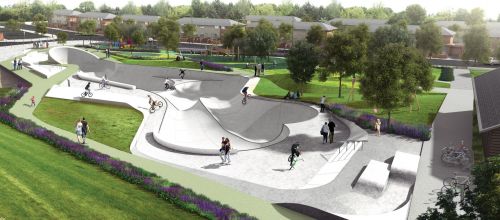 The tool opened conversations of what constitutes a good integration between skate and play landscapes in public space. Details of skate bowls (spines, main layout) were understood via the use of the model. Landscape mounds to mitigate noise and visual impact were incorporated as well as changes in the overall park layout to secure visual connection of play areas to avoid issues of anti- social behavior.
The result was a design that managed to incorporate the view of the final users and addressed many of the concerns of local communities. This was made evident in comments of competition panel, who judged the design to meet their expectations as well as in the smooth planning approval that ensued, were local communities did not object to issues of noise and visual intrusion.